ARMA 3 EPOCH: GETTING STARTED


Step 1: Purchase and Install Arma 3 if you don't already have it. I also recommend getting the DLC for it. You will at least want Karts DLC and Helicopters DLC, or for a bit more money you can get the DLC Bundle which includes both Karts and Helicopters, however, it also includes the upcoming Marksmen DLC. **The DLC are not required but recommended if you want to be able to use all of the gear and vehicles in game.**



Step 2: Download the Epoch files from HERE. This page will always link to the most current Epoch files available. Be sure to pay attention to the download path so you can find the file when it is finished downloading. To be sure, I usually direct everything to download to my desktop for ease of location then move it to the location I want to store it later. If you need a torrent program, I use the free version of uTorrent for Windows.



Step 3: Extract the downloaded zip file to your Arma 3 folder. The path will vary depending on where you have Arma 3 installed. As an example, my path is D:\Program Files (x86)\Steam\SteamApps\common\Arma 3. If you need a handy zip program, I like 7zip. If you've downloaded and extracted everything properly, your Arma 3 folder will now contain a folder called @Epoch and if you've downloaded the optional terrain pack and extracted it properly, your Arma 3 folder will also now contain a folder called @allinarmaterrainpack. 



Step 4: Open the Arma 3 Launcher and enable the mod(s). Go to your Steam Library, click on Arma 3 in your list of games, click Play, then tick the box for Open Launcher and click Play. When the launcher opens Click on Parameters. Tick the box by Mods:. Click on the ... select the @Epoch folder from the directory, then click OK. If you are planning on playing Epoch on a map other than Altis or Stratis you will need to go through this again and select the @allinarmaterrainpack from the directory as well. If done properly, the field beside Mods: will either show @Epoch or @Epoch;@allinarmaterrainpack depending on which mod(s) you decided to enable. Now click Play at the bottom left side of the launcher and you are ready to play Epoch!!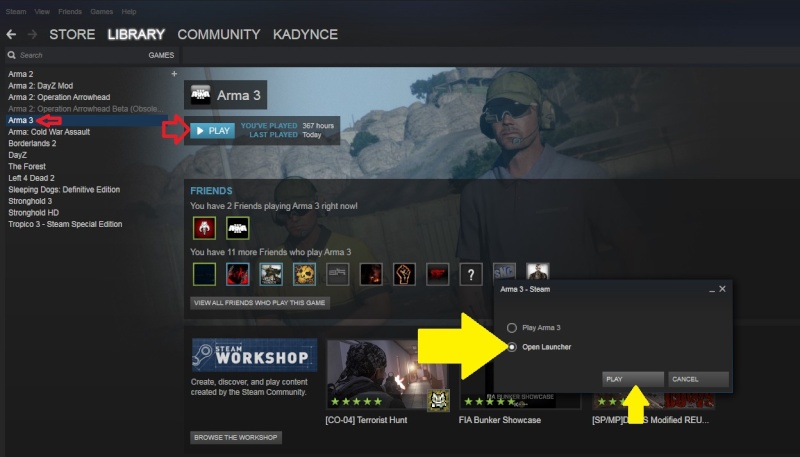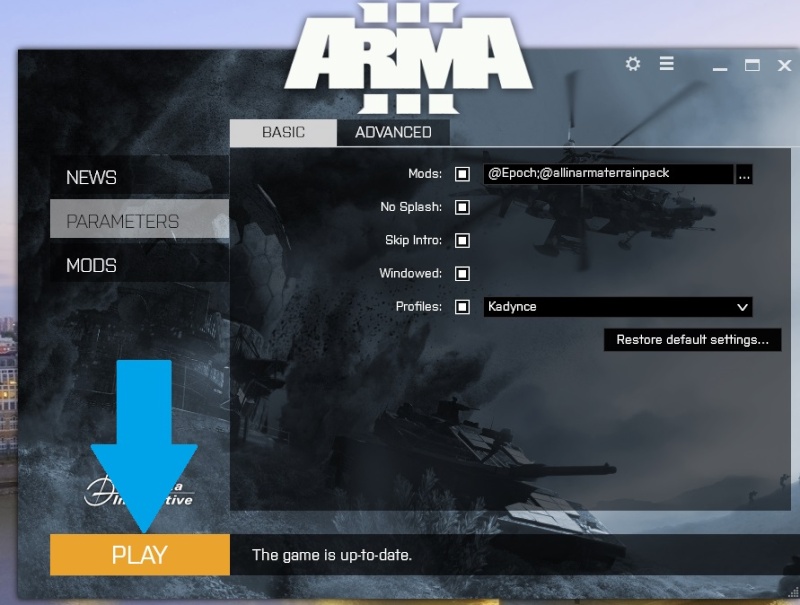 Step 5: When the game launches you will see a menu at the bottom left of the screen. Click Play, Multiplayer, and choose an Epoch server to play on. ENJOY!!

I hope this little guide helps. This is just the beginning. I will post helpful hints, tips, and tricks as we go along. Thanks for reading!

Kadynce




Posts

: 92


Points

: 2447


Join date

: 2014-10-17


Age

: 39


Location

: Tennessee, USA



---
Permissions in this forum:
You
cannot
reply to topics in this forum